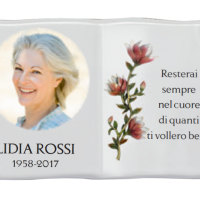 Ceramic photo`s on porcelain (photoceramics) in black and white or color technique are available in various forms. With us you can get oval, round, square, heart-shaped, book or parchment.
All ceramic photo`s for tombstones are available in standard sizes. Some shapes can be inserted into frames. Installation is simple and undemanding.
Photoceramics have an extremely long service life. Thanks to modern photo editing software, we can change the background and clothes of the people in the picture for free. You can also choose from a variety of fonts and motifs that can be a great addition to a parchment or book.