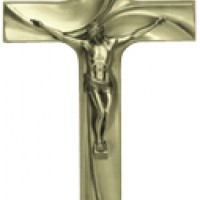 Memorial crosses made of brass, bronze, stainless steel and porcelain
In our offer you can find a wide range of crosses and crucifixes used to decorate graves, tombs and chapels.
The sizes of the crosses vary from a height of about 10 cm, all the way up to a height of up to 2.5 meters. Wall or floor mounting is available.
Crosses and crucifixes are made of the following materials:
- brass
- bronze,
- porcelain
- in stainless steel
Crosses and crucifixes are suitable for both exterior and interior use. Cross models are available in natural colors (brass, bronze) or in different colors (chrome, gold, marble, ..).
Certain lines of crosses and crucifixes also allow for additional ones such as roses, flowers, spikes and more. Some of the accessories on the crosses are so hand-painted, these are especially appreciated.
Some crosses can be obtained in different colors or finishes (pilla finish is the color of brass), as well as with various accessories (flowers, tulips, roses, ...). You can customize certain crosses to your specific preferences, so you don't want to fix them with questions.
All grave crosses and crucifixes are thus protected by a special coating that ensures resistance to all weather conditions.
Refine search