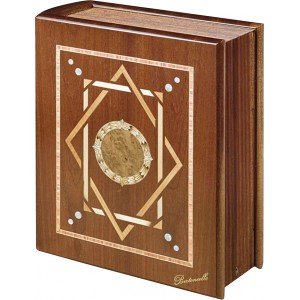 Wooden Memorial Cremation Urn Book 2517.MO
Stock:

In Stock

Model:

PIL-2518.MO

Weight:

2.80kg

Dimensions:

11.50cm x 27.50cm x 32.00cm

SKU:

2518.MO

Pilla
Wooden cremation urn. The Urn volume is 4,5L (275.0 cubic inches). Cremation Urn is made from real wood. The covers are made of solid wood 20 mm thick. The Urn consists of wooden parts with pearlescent details applied with double veneer (longitudinal and transverse) to ensure complete sealing of the base solid wood. Joints with organic glue and "male-female" joints between the cover and the back of the book; sides fitted with a lid and a back side that ensure perfect sealing even in a humid environment. Mounting screw included.
| | |
| --- | --- |
| Finish / Color | Mahogany |
| Material | Wood |
| Dimensions | H: 32 cm, W: 27,5 cm, L: 11,5 cm (H: 12,6 inch, W: 10,8 inch, L: 4,5 inch) |
| Volume | 4,5 L ( 275 cubic inches) |
| Included | A11 - 45x35 cm aluminum ash bag |
Pilla products are made from best raw materials with the highest precision. Finished by hands of traditional craftsman only adds to products value. Every product has four pilla finish coatings protecting them for decades from weather, such as rain, snow, ice or heating sun.
Made from
Base material
Wood
Finish
Finish / Color
Mahogany