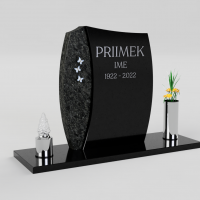 Burials with urns are, as research shows, increasingly popular in our country. Today, almost 90% of the deceased are cremated. This type of burial does not require a large cemetery area, and tombstones are also suitable for this. In the offer you will find both classic and modern charcoal gravestones.
Each tombstone can be customized according to your wishes and norms with the cemetery order. Each design presented can be reworked into the dimensions and color of the stone of your choice. Multi-colored combinations are also possible, we can adjust the size and color of the inscription depending on the size. If you have your own design or want something that is not in our offer, we will draw the monument for you in 3D.
We guarantee that the constructions or monument placements are carried out with the utmost care, with professional equipment and materials and in accordance with the art of stonemasonry. Tombstones are mounted only on a properly prepared surface (reinforced concrete foundation). We install throughout Slovenia.
All presented tombstones are without ornaments, lamps, vases, or other tombstone accessories, unless otherwise stated with the item! The price does not include installation and the permit for the implementation at the cemetery in question.
We offer a 2-year warranty on all installed tombstones.
There are no products to list in this category.