02 Feb

As burial grounds for the dead, graveyards aren't always associated with beauty. But these cemeteries transcend their role as simply sites of burial: they are also places to view historic architecture, make religious pilgrimages, pay homage to the dead and enjoy the tranquility of nature. From the famed Pere Lachaise cemetery in Paris to the lesser-known Okunoin Cemetery in Japan, here are 10 of the most beautiful graveyards in the world.
1. Pere Lachaise Cemetery, Paris, France
The Cimetière du Père-Lachaise Cemetery or Pere Lachaise Cemetery was founded by Napoleon I in 1804. It was initially avoided because it was too far from the city center, but eventually became popular after the remains of some notable personalities, including French philosopher Pierre Abélard. , who moved there as part of a marketing campaign.
Pere Lachaise now boasts a number of iconic residents, including novelist Marcel Proust, playwright Oscar Wilde and The Doors frontman Jim Morrison. Evenly peaceful, beautiful and scary, Pere Lachaise Cemetery is now the most visited cemetery in the world. It covers 44 hectares and contains more than 70,000 burial plots.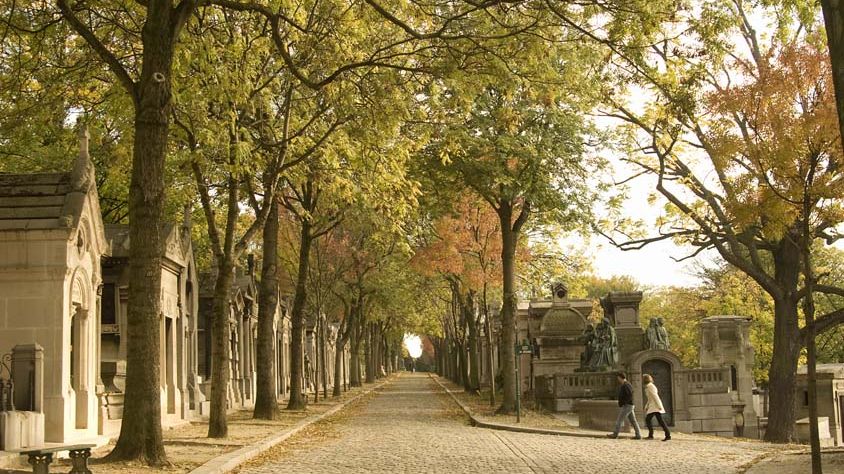 Pere Lachaise Cemetery, Paris, France, Image Credit: Getty
2. Highgate Cemetery, London, United Kingdom
The Highgate Cemetery in north London was opened in 1839 as part of a plan to provide 7 large and modern cemeteries, now known as the "Magnificent Seven", around the outer part of central London. Today it is divided into eastern and western parts and is world-famous as the graveyard of Karl Marx.
Highgate Cemetery, sometimes referred to as the "Victorian Valhalla," is known for its sophisticated neo-Gothic tombs, carved stone angels, and mausoleums. About 170,000 people are buried in about 53,000 graves throughout the city.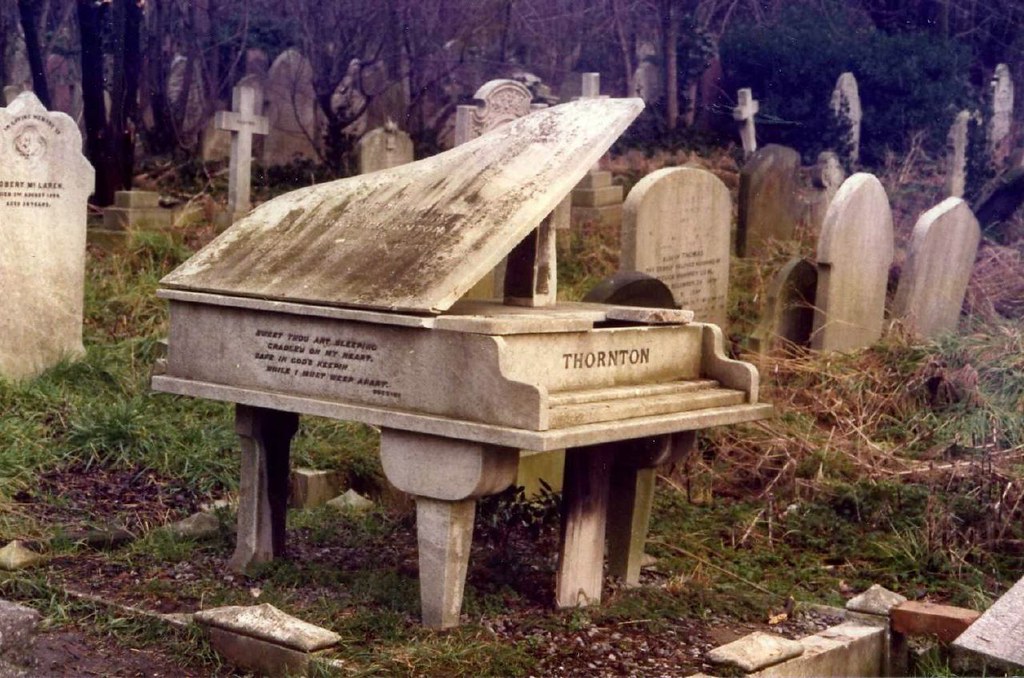 Highgate Cemetery, London, Image Credit: John Cox - flickr
3. Old Jewish Cemetery, Prague, Czech Republic
The old Jewish cemetery in Prague boasts about 12,000 tombstones, but is said to have kept about 100,000 corpses. Jewish customs do not allow the abandonment of old graves and the Prague Jewish community was never able to expand the city. As such, it is assumed that the corpses were buried there one above the other, which eventually raised the area of the cemetery a few meters higher than the surrounding streets.
It is not clear when the old Jewish cemetery in Prague was founded, but the oldest visible tombstone is of Rabbi and poet Avigdor Kara from 1439. Among the overcrowded graves lie the graves of the creator of the golem, Rabbi Loew (d. 1609). ) and the former mayor of the Prague Jewish Quarter Mordechai Maisel (d. 1601).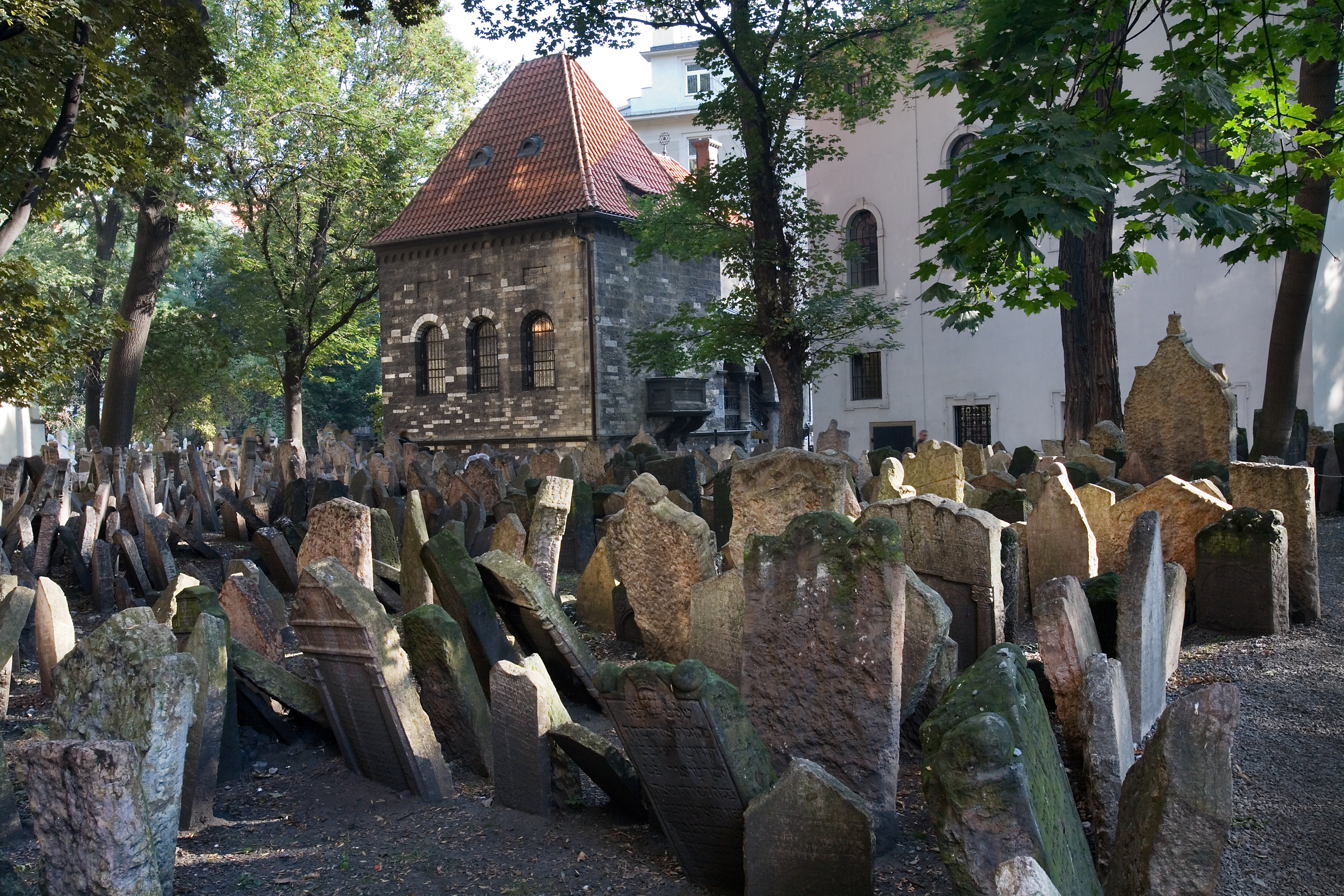 Old Jewish Cemetery, Prague, Image Credit: wikimedia
4. La Recoleta Cemetery, Buenos Aires, Argentina
The Cementerio de la Recoleta or La Recoleta Cemetery is a 19th-century cemetery in the Argentine capital, Buenos Aires. Due to the swampy area, there are above-ground mausoleums in the area and not cemeteries. La Recoleta now stretches over 14 hectares and contains more than 4,000 arches, 94 of which have been declared national historical monuments.
The lavish and magnificent La Recoleta Cemetery is more reminiscent of the city than a cemetery with its impressive neoclassical gates opening onto winding streets with trees and mausoleums. It is one of the most popular sights of Buenos Aires and boasts some iconic tombs, including the tombs of the actress and former Argentine First Lady Eve Perón.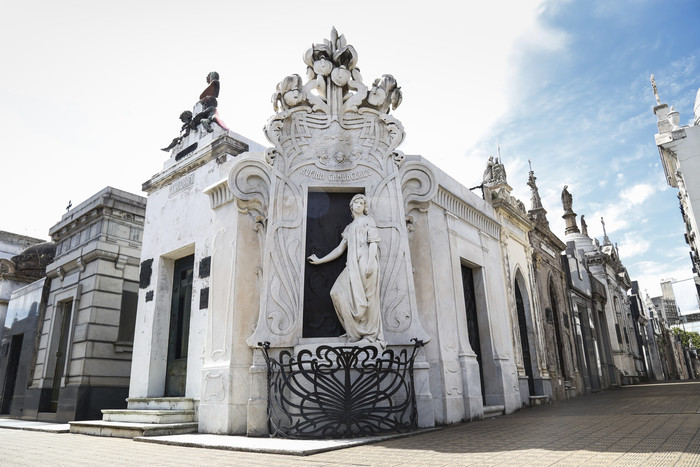 La Recoleta Cemetery, Buenos Aires, Image Credit: Tomas Etchevers
5. Arlington National Cemetery, Virginia, USA
Arlington National Cemetery is both a military cemetery and a revered monument to fallen American soldiers. The cemetery began as a house - the Arlington House - built in memory of President George Washington. However, as the number of casualties increased during the American Civil War (1861-1865), the land was designated a National Cemetery. Before the end of the war, about 5,000 soldiers were buried there.
Over the years, Arlington National Cemetery has served as a memorial to all U.S. military personnel who fell for their country. There are now about 300,000 graves in Arlington National Cemetery, all neatly aligned and each with a white tombstone.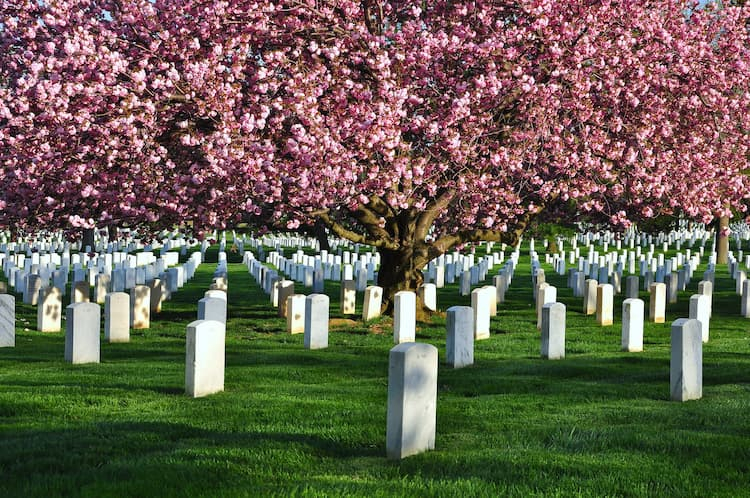 Arlington National Cemetery, Image Credit: Hang Dinh / Shutterstock

6. Mount of Olives, Jerusalem, Israel
Olive Mountain, located next to the old city center of Jerusalem, is a cemetery named after the many olive trees that once covered the area. Mount of Olives is a highly esteemed and deeply sacred city, considered of great importance to Jews, Christians and Muslims.
Mount of Olives is home to biblical kings, rabbis and Christian prophets and has been used as a cemetery for about 3,000 years. Her tombs are sandy in color and rise above Jerusalem and are believed to contain the remains of about 150,000 Jews.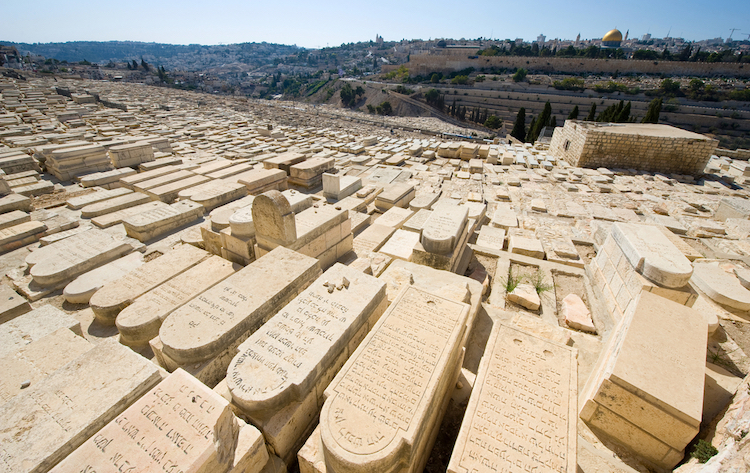 Mount of Olives, Jerusalem, Image Credit: Robert Hoetink / Shutterstock.com
7. Merry Cemetery, Sapanta, Romania
The Merry Cemetery in Sapanta, Romania, is not a typical cemetery: each grave is marked with a carved cross with humorous verses and engraved images. The author's idea is to think about the life of the deceased with a smile, references to cherished moments and crack jokes - no matter how rude or risky it may seem to us.
Between 1935 and 1977, all the carvings, paintings and inscriptions were the work of Stan Ioan Pătraş. After carving his cross, he later handed over the work to apprentice Dumitru Pop. The Merry Cemetery is now an active cemetery, a national museum and a popular tourist destination.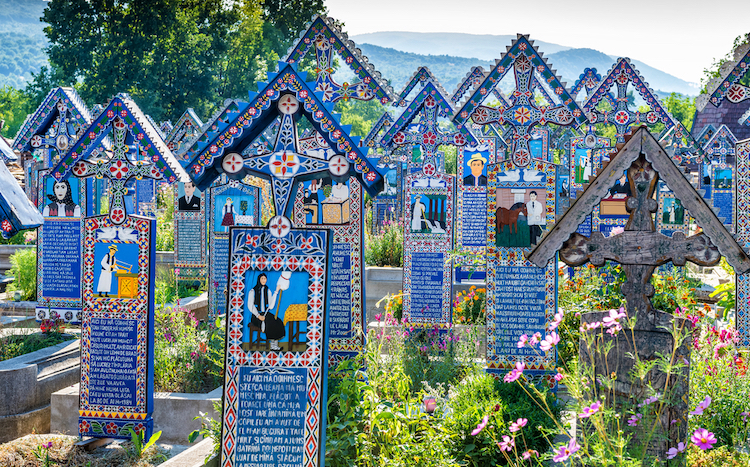 Merry Cemetery, Sapanta, Image Credit:

Danilovski / Shutterstock
8. Okunoin Cemetery, Wakayama Prefecture, Japan
Okunoin is the largest Japanese cemetery from 816 AD and one of the most revered religious sites because the founder of Shingong Buddhism, Kobo Daishi, is buried there. The path to the Daishi Mausoleum is lined with the graves of more than 200,000 monks, lit by 10,000 lights and lined with giant, moss-covered pine trees.
There are also many modern tombstones in Okunoin, including a spaceship, a cup of coffee and a termite monument. Okunoin, now a UNESCO World Heritage Site, is considered one of the most peaceful cemeteries in the world.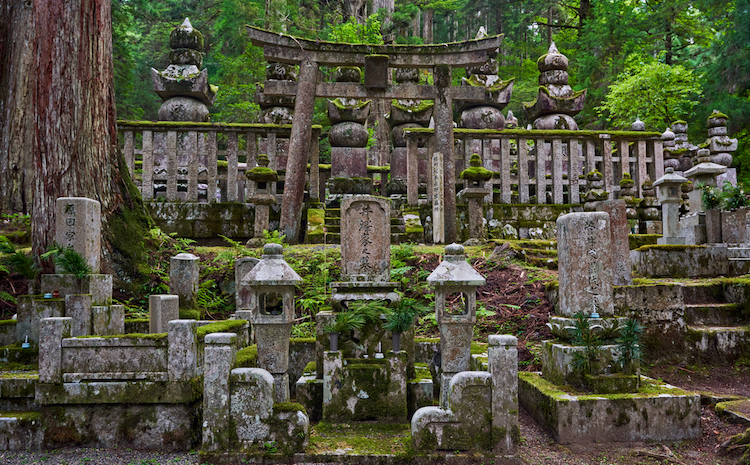 Okunoin Cemetery, Wakayama Prefecture, Image Credit:

Daniel Vine Photography / Shutterstock
9. Jardines del Humaya, Culiacán, Mexico
Jardines del Humaya is a cemetery outside the city of Culiacán in the Mexican state of Sinaloa, founded in 1969. The Sinaloa Cartel is known for its activities related to drugs and violence. The cemetery became famous for its mausoleums built for the deceased members of the cartel, which are unique and luxurious in their style. They are reminiscent of real-life houses and the associated luxuries that cartel members enjoyed before their deaths.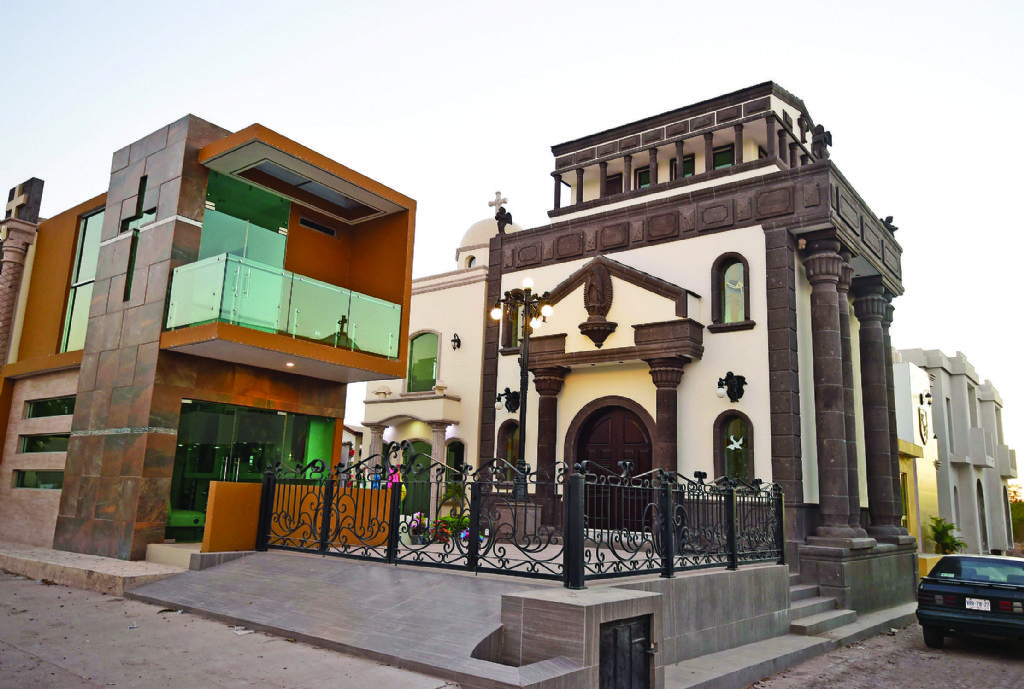 Jardines del Humaya, Culiacán, Image Credit: paginasieste

10. Waverley Cemetery, Sydney, Australia
Waverley Cemetery is a dramatic cemetery that rises above the South Pacific near Sydney, Australia. Many of her tombstones are carved from Italian Carrara marble, which radiates a bright white color under the Australian sun.
Waverley Cemetery has been used as a cemetery since 1877, when the first tombstones were erected on top of a cliff between Bondi and Bronte. It is now a protected heritage site and is home to a variety of influential Australians, including Henry Lawson, Jules Archibald and Reuben Uther.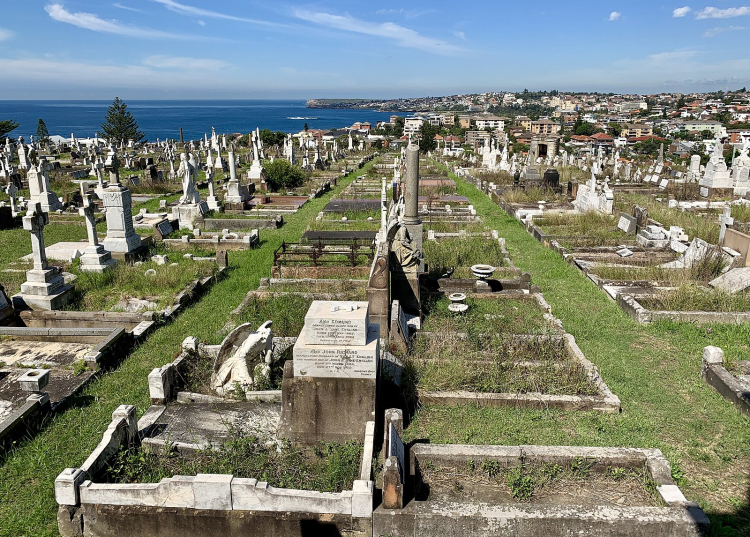 Waverley Cemetery, Sydney, Image Credit:

Kgbo



Original Article: historyhit.com